Have a question about one of our pods or bespoke design?
Get in touch for more information or call us on 08002425113
VOID PROPERTY ALARM
Alarm System in a Box - A vacant alarm system, that can be deployed on a short term, temporary basis or on a longer term. Monitored by our control room around the clock. Installed within 30 minutes - wireless, battery powered.Designed specifically for empty properties and construction sites.
The Portland Guardian Alarm, is a full featured monitored alarm, for vacant properties, design to be used in any vacant properties or construction sites.
Easy to Use, remote control, code or fob
E Battery Powered and Wireless
ECamera on Sensors
E We maintain, monitor and respond to activations
ESelf contained, stand alone system
We install, commission, fully maintain alarm system health, respond to activation, carry out regular manned property inspections for a fully inclusive price.
Our Portland Guardian Alarm, starts from £99 per week – there is no good reason not have security!
Talk to us on 0800 242 5113, find out more.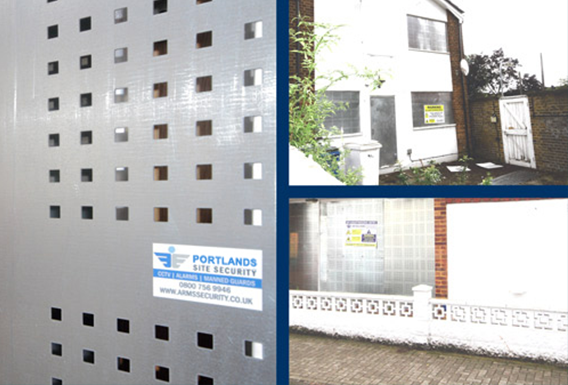 Do You Need to Secure a Building?
An empty property, is vulnerable to squatters, travellers, fly tippers, firestarter, criminal damage, vandalism. Protect your property from just £99 per week with a Portland Guardian Alarm Service.
Empty Property Services Solution
We provide complete property services, including site clearance and building maintenance, as well as steel screening for long term empty properties. The Portland Guardian alarm system, is a combination our robust wireless system with our security service, for a low weekly service fee.
CCTV PIR
our Sensors can take pictures of your site, we can verify activations!
Ad Hoc Mobile Patrols
we regularly provide internal and external patrols
Unlimited Callouts
we respond to every verified activation – no charge
Emergency Remote Arm/Disarm
if your team forgets, we can arm your alarm
24 Hour Customer care line
direct access to onsite security personnel
24 Hour Alarm Monitoring
we regularly provide internal and external patrols
Signage Included
we regularly provide internal and external patrols
Key Holder Response
we regularly provide internal and external patrols
Rapid Deploy
we regularly provide internal and external patrols
Battery Powered
we can supply battery powered systems Full installation and maintenance of System Health
BRAND NEW ENQUIRY? We can give you a range of solutions. give us a call on
0800 242 5113

, or complete the form below for a call back.


Contact Us
 Portland Support Services, 4th Floor, 18 St Cross St, London, EC1N 8UN
 (0800) 242 5113
 contact@PortlandServices.co.uk

The easiest way to find out exactly how we can help you is to get in touch, complete your information with a brief description of what help you need, or give us a call.

Hours: Mon-Sun 6am - 23:00pm Every days OPEN