Get construction security for just £99 per week?
Get in touch for construction security on 08002425113
BUILDING SITE SECURITY MANCHESTER
Get - A vacant construction site can be seen as a low risk, high reward burglary for oppurtunist. It is the biggest inconvenience that the rewards of selling second hand tools, copper, or white goods is tiny considering the problems even a small break-in can cause for the main contractors. Confidence can be lost by subcontractors, epecially if it is not clear who should pay for replacing their tools - nothing can be worse than an upset contractor on site. We have construction security solutions for every situation and budget, starting from £99 per week for a monitored CCTV ALARM to a security guard with a construction site security dog
Just had a break-in, we can have guards on site to ensure your site or office is covered, for high quality and reliable scurity guard service, our security guards are monitored we can The Portland Guardian Alarm, is a full featured monitored alarm, for vacant properties, design to be used in any vacant properties or construction sites. We cover all areas in Manchester
Sameday Warning Boards Included
Uniformed SIA Security Guard
GPRS Tracked Security Guards
Active Lone Worker Device Included
CCTV At No Costs Included
We manager the construction security services we provide, we have been supplying construction security guards, including man and dog security Manchester .
CONSTRUCTION SECURITY TIPS MANCHESTER
Construction Tip - Quick Questions if you saw a group of guys wearing yellow high visibility vest, loading tools on a van, no one would think to call the police. An empty site can be seen as an easy score, so we advise companies not advertise the fact that their site is not empty. One way construction firms do this is to have a padlock on the outside, by simply wrapping the padlock on the inside of the wooden hoarding - it give the impression that it may be locked from inside, no longer appealing to an oppurtunist. Get Security in manchester site from £99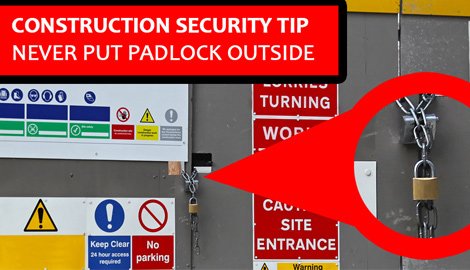 If their really isn't the budget for even a basic alarm system, please see below some construction tips that will make you construction site lest attractive..
Avoid mechanical locks
Insist contractors use lock boxes
Install appliances straightaway
Use Security Signage
Wooden Hoarding Where Possible
We manager the manchester security services we provide, we have been supplying construction security guards, including man and dog securitu .
Our Portland Guardian Alarm, starts from £99 per week – there is no good reason not have security!
Talk to us on 0800 242 5113, find out more.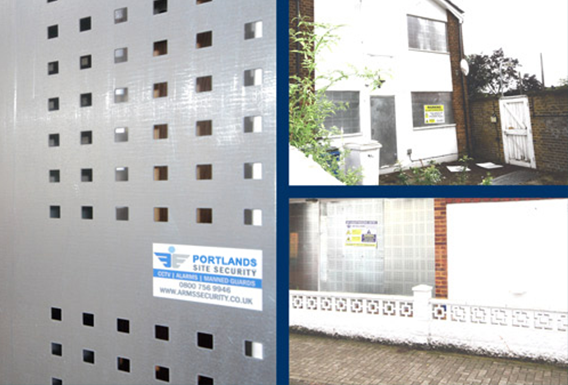 Do You Need to Secure a Site?
An empty construction site, before and during building work, is vulnerable to squatters, travellers, fly tippers, firestarter, criminal damage, vandalism. Protect your property from just £99 per week with a Portland Guardian Alarm Service, or a manned security guard to secure your site when your contractors leave.
Empty Property Services Solution
We provide complete construction security services, including site clearance and building maintenance, as well as steel screening for long term empty properties. The Portland Guardian alarm system, is a combination our robust wireless system with our security service, for a low weekly service fee.
CCTV PIR
our Sensors can take pictures of your site, we can verify activations!
Ad Hoc Mobile Patrols
we regularly provide internal and external patrols
Unlimited Callouts
we respond to every verified activation – no charge
Emergency Remote Arm/Disarm
if your team forgets, we can arm your alarm
24 Hour Customer care line
direct access to onsite security personnel
24 Hour Alarm Monitoring
we regularly provide internal and external patrols
Signage Included
we regularly provide internal and external patrols
Key Holder Response
we regularly provide internal and external patrols
Rapid Deploy
we regularly provide internal and external patrols
Battery Powered
we can supply battery powered systems Full installation and maintenance of System Health
BRAND NEW ENQUIRY? We can give you a range of solutions. give us a call on
0800 242 5113

, or complete the form below for a call back.


Contact Us
 Portland Support Services, 4th Floor, 18 St Cross St, London, EC1N 8UN
 (0800) 242 5113
 contact@PortlandServices.co.uk

The easiest way to find out exactly how we can help you is to get in touch, complete your information with a brief description of what help you need, or give us a call.

Hours: Mon-Sun 6am - 23:00pm Every days OPEN